Where Are They Now? 
Kimberly, Forest and their 9 children
Can you imagine telling nine children, "Kids, we have to move again" … packing them up time after time, always looking to give them a better place to live?
Forest and Kimberly did. Now, because people like you became their partners, they never have to move their family again.
One Family's Journey to Empowerment
Though both Forest and Kimberly were working, they had too many everyday expenses to put money aside for a house. They couldn't break the cycle of making high monthly payments on rent instead of mortgage payments on something they could own.
Besides the expense, simply finding a 5-bedroom rental that was in good repair in a safe neighborhood was consistently a huge hurdle. Then they were at their landlord's mercy.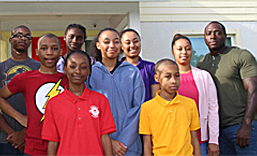 "There were so many decisions we couldn't make," Kimberly said. "We couldn't install a security system or put up a fence. We couldn't tell people to stay off our property. We have been in some bad places where we didn't want the kids to play outside."
Desperate, Kimberly began researching assistance for first-time homebuyers. It was a decision that would alter the course of every family member's life.
Family + Volunteers + Financial Support = New Home, New Life
Once they found Habitat for Humanity of Palm Beach County, they were on their way to a new life. Volunteers stepped up, as they always do, to help the family build a home. All nine kids did their part, too, joyfully painting and laying sod.                                                                                                                     
"I didn't think a home for my family would ever be possible! We are so grateful," Forest repeated over and over at their home dedication.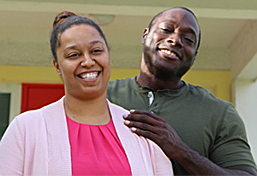 Today, Forest and Kimberly are still asking us to pass along their gratitude. For five years, they have been successfully handling an affordable mortgage on a decent and affordable home in a safe and stable neighborhood, and the children get to spend more time with their family.
It Takes All Kinds of Resources 
Along with collaboration and sweat equity, building every home requires funds for construction, materials and labor – Funds that quickly add up.                                                                                                                    
Will you make a donation of $50 or $100 today to put doorknobs or closet doors in someone's new home? No gift is too small to provide strength, stability and self-reliance through affordable housing.
Change the course of another family's life. Please give today.